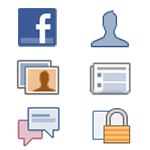 Date of Workshop: TBA
Instructor: Renne Emiko Brock-Richmond
Workshop Length: 6 PM – 8 PM, 2 hours, one session
Location: Dungeness Design, 520 N. Sequim Ave. Sequim, WA
Cost Per Student:  $20
Workshop Description:
Ready for your intermediate Facebook workshop? This is it! Learn more features and how to manage your existing Facebook account, setup, and review your privacy settings. Foster connections discover how you can actively participate more using social networking. Get a handle on how you can use Facebook intelligently and efficiently.
Students will learn how to:
Edit your Profile.
Customize your privacy settings.
Develop and share photo albums.
Tag posts and photos to optimize your exposure.
Create Lists to organize your friends on Facebook.
Please bring to the workshop your own wifi friendly computer and basic computer knowledge is required.
Please Register and Pay for the workshop through PayPal Buy Now – click the button. You can pay using your credit card, debit card, or PayPal account. The payment will be billed under Renne's business "unique as you" and your payment is your registration for the workshop.
Questions or to pay by phone call: 360.460.3023, business hours 10:00 AM – 6:00 PM